Welcome to my website
My name is Vern and at present, I work as a systems technician looking after computer networks all over the Central Highlands (yes, they even exist out here in the bush!). I started my working life as an electrical linesman which gave me a solid grounding in tree butchering and eradication but these days I'd rather preserve them for better things. When I moved to Queensland's Central Highlands in about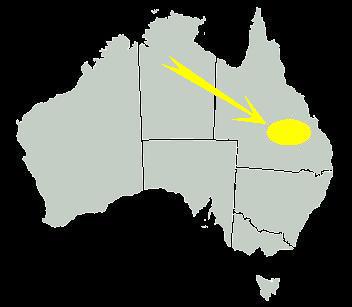 1994, I started playing with a bit of woodwork using timber from NSW and all over without realising there was a vast supply of the most beautiful timbers right on my doorstep - literally!
Once I discovered the beauty of the local timbers, I started gathering bits of as many different types as I could find to work out which ones were worth using for my woodworking. This soon became an obsession and this web-site is a token attempt at gathering it all into one place to share with anyone that's interested (all 2 of you!)
I took up woodturning as a serious hobby in about 2003. I had tinkered with making some knobs and handles previously on a lathe I made from a washing machine motor and a few bits and pieces I had laying around the shed. As woodturning was my Dad's 'thing', I tried to avoid getting too involved in it, but the bug got me anyway. I bought an El-Cheapo lathe which served me well until early 2007 when I decided to lash out and get 'a real lathe'.
The 'Stubby' lathe cost me an arm and a leg but I haven't regretted buying it for a second. Arguably (and I will argue it!) the most versatile lathe available - a dream to use. I'm totally self-taught so some of my techniques may not be 'by the book' but the end result has made a few people happy at least. I don't try to make money from my hobby, it's purely for pleasure, so I give most of what I make to my friends and family, (who have pretty much had enough now!). Like they say though, "everyone has a price", so I'm still open to commissions or offers on anything you see here.
All of my work (that I'm happy with) gets branded with one of my Makers Marks as long as there is space on it that is out of plain sight. Not having the brand on a piece doesn't mean it isn't genuine, just that it's too small or a little dodgie!
As a man of few words, (though some would argue!) most of the site is filled with photos I have accumulated with little in the way of explanations. If you have any queries or feedback about the website, please feel free to send me a message.
I don't have a picture of myself at the lathe with shavings flying over my shoulder or anything like that so this will have to do instead. My 3yr old grandson lent me his 'ride' - cool or what?!
International Wood Collectors Society membership # 9473